Alex Kimball & Ian Linter – Live Transmission 26th November 2011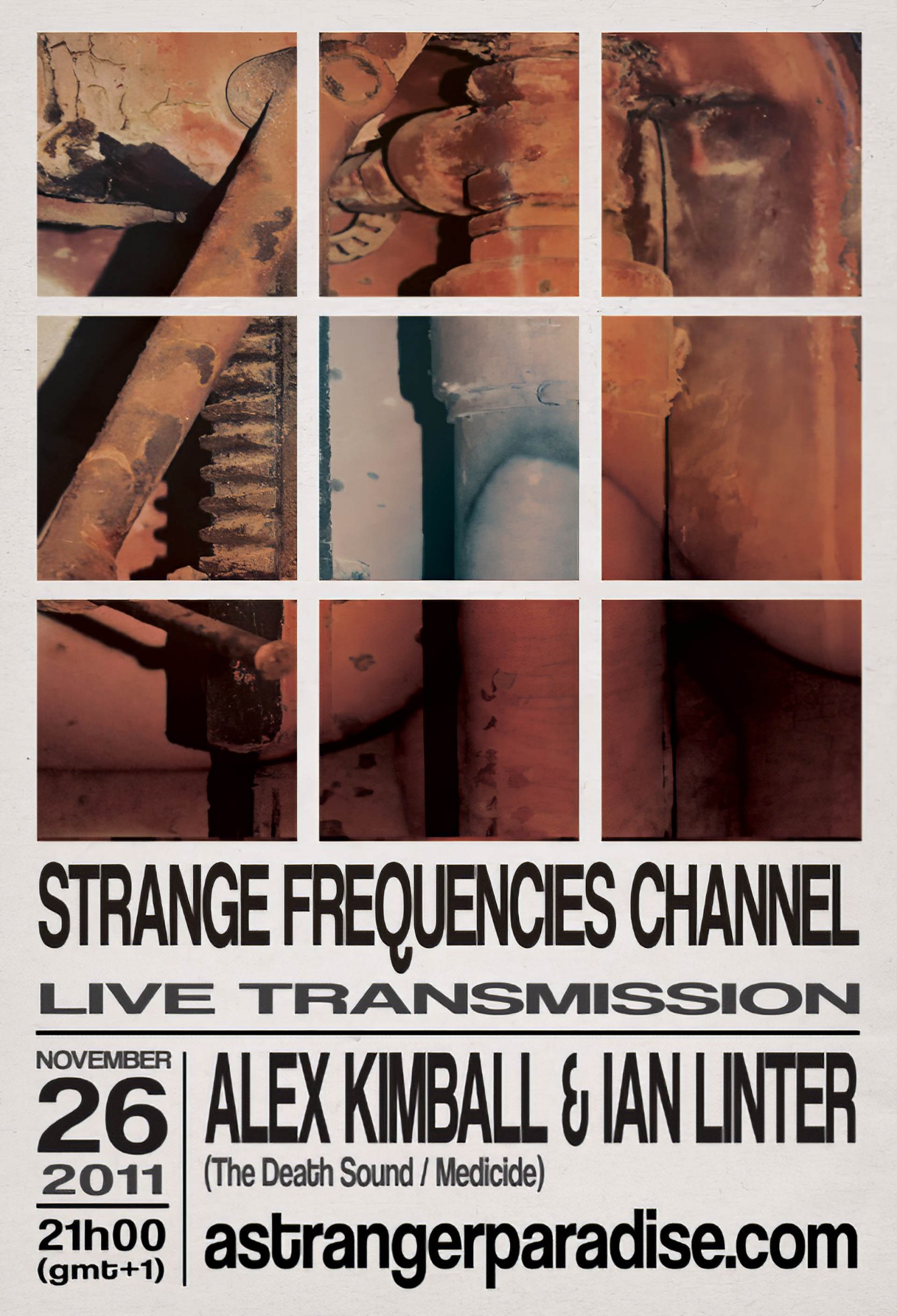 Strange Frequencies Channel
Live Transmission by Alex Kimball & Ian Linter
Saturday: 26th : November : 21h00 (gmt+1) Paris time
A Live Transmission with Alex Kimball and Ian Linter applying abstractions from different locations: Little Rock, USA, and Paris, France. An absolute act of improvisation after the render Myth & recording passion for Lodovico Series 9. Begin at 21h00 (gmt+1) and progression for at least 60 rotations/brain measure. Saturday, number 26/11.
Alex Kimball
« Really, The Death Sound started in 2007 when I was beginning to explore early industrial music. I had gotten a bug to look into older industrial music while I was going through a Numb kick. I am someone who likes to « go back to the beginning » of things, so to speak, study origins, so the logical starting place was Throbbing Gristle. I was fascinated by it; it was different, challenging, and like nothing you'd really hear called « industrial » today. I'd remembered my friend Matt from college did sequencer programing on a freeware program called Jeskola buzz. I called him up with the proposition of starting a project. The Death Sound was born. Our first recording was just an experiment with using sound editing software, chopping up samples. The result was « A Series of Tubular Bells », which was a joke track that we threw up on myspace until we had time to do anything better. That is, until Cosey Fanni Tuti sent us a message telling us she enjoyed our sound. Late 2007, we had a flurry of recording and put together the 5 or 6 track (depending on which version) Series of Tubular Bells EP, mostly Matt doing instrumentation and myself doing arrangement, composition and some vocals. By 2008, we had been making connections all over the world, and our sound was growing more diverse from the different influences. While we had discussed possibility of touring europe, plans never fully materialized (and we weren't ready for live performances anyway). While we were making a small name for ourselves in the European scene, very few local shows developed and the reception was lukewarm. Summer of 2008 I arranged and recorded « Loneliness on the Psychic Seas » largely by myself, but building on Matt's instrumentation. Around this time, I was also doing a number of collaborations with artists from around the world (OLoF NiNe, Tarsus, Arte Sacra Atelier, and several with both Finger Painted Death and Glitchgore) under the name The Death Sound, though these were largely a solo affair. Late summer, we finally scrounged some mediocre gigs to try to promote a compilation of odds and ends « Nothing But a Nightmare » and our band's one year birthday. This would lead to the retrospective album TDS: « Year One », a compilation of our first two EPs and the full live set from our « birthday » gig, on OFF/BRUMA, a Portugese net label. TDS: « Year One » was intended to be a milestone from which we would launch ourselves forward, and still remains in heavy rotation on underground internet radio, however nothing is as we intend. We played « Easy Street » not long after our birthday show, which proved to be our most successful show. The live album from that night would be the Death Sound's last full length release. We had intended to begin work on a follow up to Year One, which was to be titled « All Part of Nature's Plan », however in early 2009 only a few tracks were finished. The birth of Matt's daughter was a happy occasion, but it meant that he no longer had the time to devote to musical projects that he once did. I found myself playing for the Kill Crazies, a punk band spun off of the band we had played our last show with, which is a story unto itself. Essentially, the Death Sound went on Hiatus. The brief re-emergence of the Death Sound last year had a lot to do with Dakuu, Stillborn Diz, Fuck Your Scene Vol 2, and the breakup of Medicide. I discovered and absolutely fell in love with Stillborn Diz, who ended up on Fuck Your Scene Vol 2. Through Stillborn Diz, I'd heard of a band called 13th Moon; a member of 13th Moon had put out a free Japanese goth compilation called « Plan X From the Eastern Dark ». I checked it out because it had Darkside Mirrors on it (whom I adore). Masahide from Dakuu, a band on that compilation, saw I was familiar with his music from Plan X, and checked out what I was doing with FYS and The Death Sound. -Masahide-san and I talked about the possibility of putting something out on Retro Virus Records. In the end, we decided to include the Death Sound, Stillborn Diz, and Finger Painted Death. Very long and complicated, I know! This gave Matt and I the perfect excuse and opportunity to dust off what we had been working on before our hiatus. While « All Part of Nature's Plan » will almost certainly never see the light of day, the 5 tracks on Mundus Patet are representative of what the album might have been like, as we were moving away from our harsher sounds to a more moody and melodic style. »
// Keyboard, flanger, phaser, delay, gristleizer, looper //
Ian Linter
Electro-organic immediatism in any possible structure through a real-time feedback series of necessary events: OLoF NiNe, ACT9, Airf'Auga, Massacre Divino, La Main Traumatique with Joséphine Muller, Plasma, RTP… Ian Linter turns the third axis created by Bórgia Ginz and mirrored by Juca Pimentel.
"Non musika Excentrica IN! For electronikal renoise Key. Submit Random Science & reduction. Overflow cast Numar is for Den emon exp & la mort pour Vitas body convolution."
// Sampler Z and generator 14 for chroma in multi domains, pad OFF multi, effects Zoomer, controlled mic, ohmed guitar, pG guitar, surfaces M – Z //
Line Up
Event details
| | |
| --- | --- |
| Date: | 26 novembre 2011 |
| Location: | Strange Frequencies Channel |
| Address: | Paris |
---
---