Murmurists (Anthony Donovan) & Ian Linter – Live Transmission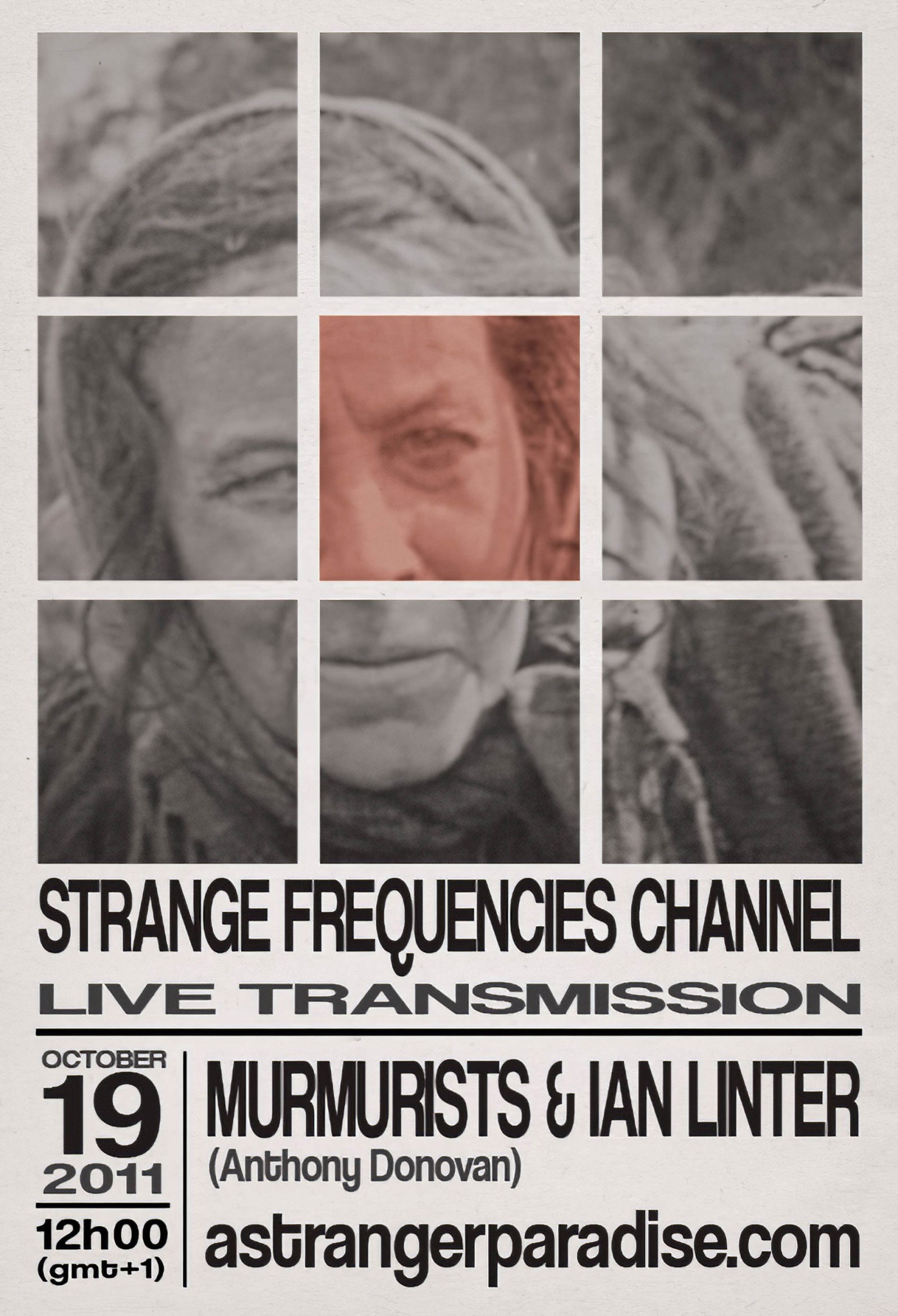 Strange Frequencies Channel
Live Transmission by Murmurists (Anthony Donovan) & Ian Linter
Wednesday: 19th : October : 12h00 (gmt+1) Paris time
A Live Transmission with Anthony Donovan and Ian Linter applying abstractions from different locations: United Kingdom and France. An absolute act of improvisation after the render Myth & recording passion for Lodovico Series 9. Begin at 12h00 (gmt+1) and progression for 60 almost rotations/brain measure. Wednesday, number 19/10.
Murmurists (Anthony Donovan)
Artist, musician, writer, composer, working solo as Murmurists. Improviser – with Vultures Quartet, Donovan/Graham, and others. Member of Lux P0G0 and the.clinamen. Ardent collaborator. Co-founder of Classwar Karaoke. Erstwhile academic. Born North West England; now Middle-England. Mid40s; moderately-healthy. Interests all either obscure or intentionally opaque, but morally authentic.
// Zither – with contact mic and guitar pick-up, homemade light-sensitive analogue synthesiser (made by Adrian Beentjes), digital synthesiser, 4 string electric bass, 6 string acoustic guitar, loop station, digital delay, analague flanger, digital multi-effects, distortion, mini-amp/speaker with contact mic, electric toothbrush, electric fan, cello bow, objects, balloons, radio, microphone, walkie-talkie (x 2), glass slide, crocodile clips //
http://murmurists.blogspot.com
Ian Linter
Electro-organic immediatism in any possible structure through a real-time feedback series of necessary events: OLoF NiNe, ACT9, Airf'Auga, Massacre Divino, La Main Traumatique with Joséphine Muller, Plasma, RTP… Ian Linter turns the third axis created by Bórgia Ginz and mirrored by Juca Pimentel.
"Non musika Excentrica IN! For electronikal renoise Key. Submit Random Science & reduction. Overflow cast Numar is for Den emon exp & la mort pour Vitas body convolution."
// Sampler N and generator 23 for chroma in multi domains, pad OFF multi, effects Zoomer for bleed interference, controlled mic, ohmed guitar, pG guitar, can 2d, can 4, can 9, ohmed flute, screws 23# and zen#a, meta-Artaud, surfaces A – D //
Line Up
Event details
| | |
| --- | --- |
| Date: | 19 octobre 2011 22:00 |
| Location: | Strange Frequencies Channel |
| Address: | Paris |
---
---